When it comes to home office furniture, are you tired of the same old, boring options?
In today's increasingly remote work world, having a comfortable and functional home office is essential.
That's why we've put together an amazing and unique list that'll elevate your workspace and make you excited to get things done.
From ergonomic chairs to cleverly designed desks, we've got you covered with a collection of practical strategies and must-have pieces.
So whether you're a freelancer, remote worker, or just looking to revamp your study, this blog post is your ticket to a more stylish and functional work-from-home experience.
Let's dive right in!
1. The Space-Saving Corner Desk
Forget the traditional rectangular desk and opt for a space-saving corner desk instead. A well-designed corner desk can maximize your home office space without sacrificing functionality.
With built-in shelves and storage options, you'll have everything you need right at your fingertips.
Consider a corner desk with a hutch for additional storage space and display options, perfect for showcasing your favorite books, awards, or decorative items.
2. Embrace the Ergonomic Revolution with a Standing Desk
Invest in an adjustable height desk to reduce strain on your back and neck.
By switching between sitting and standing throughout the day, you'll promote better posture and overall health. Plus, you'll feel more energized and focused!
To enhance your ergonomic setup, pair your adjustable-height desk with a supportive chair, cushion, and office mat to maximize comfort and reduce fatigue.
3. Or Opt For a Standing Desk Converter
If you're not ready to commit to a full-standing desk, consider a standing desk converter.
This adjustable platform sits on top of your existing desk, allowing you to switch between sitting and standing with ease.
Choose a converter with a spacious work surface and a separate keyboard tray for optimal ergonomics and comfort.
4. Go Minimal with a Floating Desk
Free up valuable floor space with a sleek, modern floating desk.
Easy to install and visually appealing, a floating desk is perfect for minimalist home offices.
Add an ergonomic keyboard tray and a wall-mounted monitor arm to create a comfortable, clutter-free workspace that encourages focus and productivity.
5. The Versatile L-Shaped Desk
An L-shaped desk offers ample workspace and storage without taking up too much room.
Ideal for multitaskers, this desk layout provides separate areas for computer work, writing, and other tasks.
Consider adding a hutch or additional shelving above the desk to create even more storage and display space for your office essentials.
6. Opt for a Desk with Built-In Storage
Choose a desk with integrated storage solutions like drawers, shelves, and filing cabinets. This will help keep your workspace organized and clutter-free, leading to increased productivity.
Look for desks with soft-close drawers and wire management systems to maintain a tidy and professional appearance.
7. The Modern Writing Desk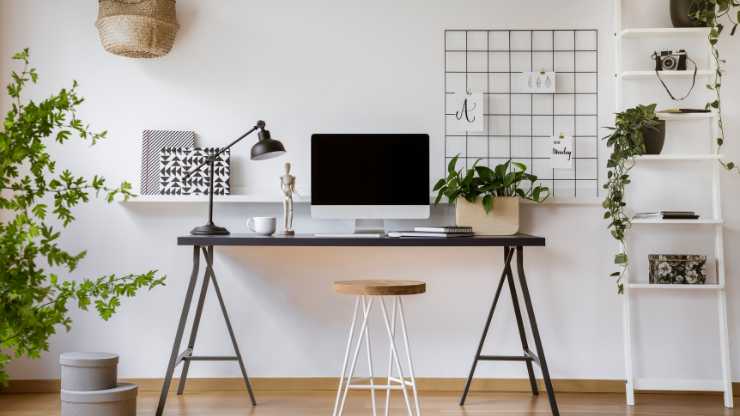 A sleek, stylish modern writing desk can add a touch of sophistication to your home office.
Look for designs with unique features, such as a glass top or metal legs, to make a bold statement.
To further elevate your space, incorporate a stylish desk lamp and a modern office chair that complements the desk's design.
8. The Mobile Office
Consider a desk with casters for easy mobility. This is perfect for those who need to rearrange their workspace frequently or want the flexibility to work in different rooms throughout the day.
A mobile office is also great for small apartments or multi-functional spaces, as it can be easily moved out of the way when not in use.
9. Maximize Space with a Wall-Mounted Desk
A wall-mounted desk is another space-saving option that offers a clean, modern look. With no legs or bulky supports, this desk design creates an open and airy feel in your home office.
Look for options with built-in shelving and storage compartments to keep your workspace organized and clutter-free.
10. The Executive Desk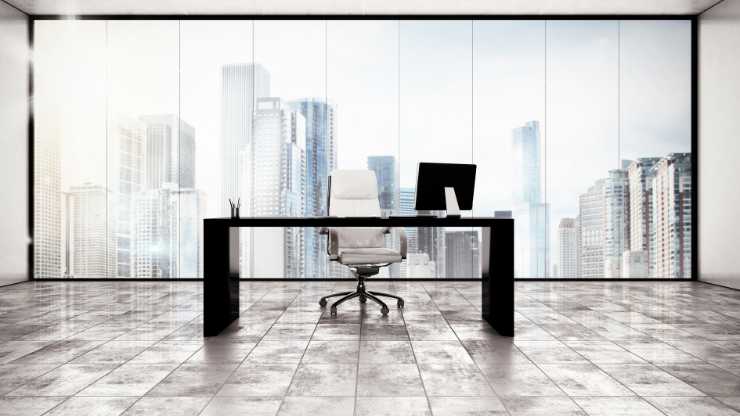 Upgrade your workspace with an executive desk, featuring a large surface area, ample storage, and a sophisticated design.
This statement piece will give your home office a professional feel.
So, consider adding a matching credenza or filing cabinet to complete the look and provide even more storage options.
11. Incorporate a File Cabinet Desk
A desk with an integrated file cabinet is a practical solution for keeping important documents organized and easily accessible. It also helps to declutter your workspace and increase efficiency.
Look for designs with lockable drawers to keep sensitive documents secure and protected.
12. Go Green with Sustainable Furniture
Choose office desk furniture made from eco-friendly materials, such as reclaimed wood or bamboo.
This not only adds a unique touch to your home office but also contributes to a sustainable future.
Pair your sustainable desk with other eco-friendly office accessories, like recycled paper products and energy-efficient lighting, to create an environmentally conscious workspace.
13. The All-in-One Desk and Bookcase
Combine your desk and bookcase into one cohesive unit. This space-saving design is perfect for those with limited room or who want a streamlined look in their home office.
Look for options with adjustable shelving to accommodate your growing book collection or to display decorative items and awards.
14. Opt for a Modular Desk System
For the ultimate flexibility, consider a modular desk system. With various components, like desks, shelves, and filing cabinets, you can mix and match to create a custom home office layout that suits your needs.
Modular systems are great for adapting to changes in your workflow, making them a smart investment for the long term.
15. The Multi-Purpose Desk
Choose a versatile desk that can also serve as a dining table or craft station when needed. Look for designs with foldable or extendable sections to accommodate various activities.
This is particularly useful for those living in small spaces or who need to maximize the functionality of their home office.
16. The Collaborative Workspace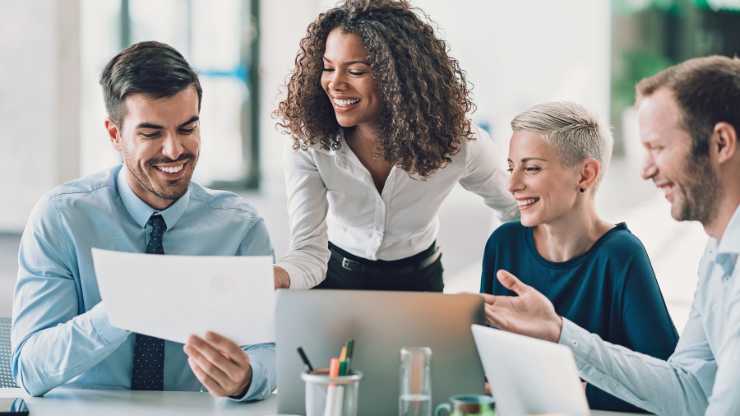 If you share your home office with a partner or family member, opt for a double-sided or T-shaped desk. This setup allows for easy collaboration and communication while working side by side.
Consider incorporating privacy screens, shared storage solutions, and dedicated workstations to create an efficient and harmonious shared workspace.
17. The Tech-Friendly Desk
For those who rely heavily on technology, consider a desk with built-in features like USB ports, cable management, and wireless charging pads.
This will keep your devices organized and your workspace clutter-free. Add a monitor stand or mount to elevate your screen to the optimal viewing height and reduce neck strain.
18. The Vintage-Inspired Desk
Incorporate a touch of nostalgia into your home office with a vintage-inspired desk. Look for pieces with retro designs or antique finishes to add character and charm.
Complement your vintage desk with period-appropriate accessories, such as an antique desk lamp or a typewriter-inspired keyboard, to complete the look.
19. The Kid-Friendly Desk
If you're a parent working from home and need to accommodate your children's needs, consider a kid-friendly desk.
Look for designs with adjustable heights, rounded edges, and ample storage for both your work and their school supplies.
This setup allows you to create a shared workspace that caters to the entire family, fostering a positive and supportive work environment for all ages.
20. Suspended Desk Hammocks for Ultimate Comfort
Combine comfort and productivity with a hammock-style desk that lets you work in a reclined position.
Suspended from the ceiling or a sturdy frame, these innovative desks offer a unique and ergonomic solution for those seeking an alternative to traditional seating.
Add a few cozy cushions and a blanket to create a relaxing atmosphere that promotes focus and creativity.
21. Elevate Your Home Office with Dining Chairs
Repurpose dining chairs for office use, adding a touch of elegance and sophistication to your home office.
Opt for upholstered chairs with cushioned seats and backrests for optimal comfort during long work sessions.
Mix and match different styles and materials to create a unique and inviting workspace that reflects your personal taste.
22. Greenify Your Workspace with Vertical File Cabinet Planters
Turn a standard file cabinet into a vertical garden by adding planters to each drawer.
This creative solution not only adds a touch of nature to your home office but also promotes better air quality and mental well-being.
Choose a variety of low-maintenance plants that thrive in indoor environments, and enjoy the added benefit of a more calming and inspiring workspace.
23. Wall Decor That Doubles as Office Storage
Choose wall decor that serves a dual purpose by providing additional storage for your office supplies.
Opt for floating shelves, pegboards, or wall-mounted organizers that combine style and functionality.
Display your favorite artwork or photographs alongside your office essentials to create a visually appealing and efficient workspace.
24. Desk Lamp with Voice-Controlled Assistant for Ultimate Convenience
Illuminate your workspace and stay organized with a desk lamp that features a voice-controlled assistant, like Amazon Alexa or Google Assistant.
These high-tech lamps not only provide the perfect lighting for your tasks but also allow you to set reminders, control smart home devices, and access information hands-free.
Choose a design that complements your home office decor for a seamless and modern touch.
25. The Multipurpose Desk with Built-In Exercise Equipment
Stay active and healthy while working from home with a multipurpose desk with built-in exercise equipment, such as an under-desk treadmill or stationary bike.
These innovative desks allow you to stay fit and focused throughout your workday, promoting better productivity and overall well-being.
26. The Ultimate Break Space: A Relaxation Corner
Create a dedicated relaxation corner in your home office to recharge during breaks.
Set up a comfortable seating area with a plush armchair or loveseat, a soft rug, and a cozy throw blanket.
Add a bookshelf with your favorite reads or a small table to hold a cup of tea or coffee.
This designated break space will encourage regular mental breaks, enhancing productivity and overall well-being.
Turn the Tables & Rethink Your Workspace
Let's face it — we've all had those moments where we felt frustrated with our home office.
But remember: a comfortable and efficient workspace is an essential element of success.
So, go ahead — take the plunge, and create a workspace that's truly one of a kind.
Give yourself a pat on the back for taking the first step towards a better, more inspiring home office.
You've got this!