Looking to revolutionize your workday with a standing desk treadmill?
You're in the right place.
Standing desk treadmills can turn monotonous desk hours into dynamic, energizing sessions, and we've curated the best options just for you.
Wondering how they can boost your productivity and health? We'll uncover all the answers, providing you with actionable insights and real-life examples.
Let's begin!
What Should You Consider Before Buying a Standing Desk Treadmill
Navigating the multitude of standing desk treadmills can be daunting. But don't worry — we've got you covered.
This guide is designed to highlight key considerations that will help you find the best treadmill for your workspace.
So, let's take the mystery out of the selection process…
Define Your Usage
Before you dive headfirst into the world of standing desk treadmills, it's essential to understand your needs.
Are you aiming to walk long hours, or just looking for short bursts of activity?
Knowing your usage can guide your selection process towards the ideal model.
After all, a tailor-made solution is often the best, right?
Check Your Space
While it's tempting to go for the biggest, most feature-packed model, remember to consider your workspace.
Have you opted for a minimalist home office? Or a classic wooden design?
Also, will the treadmill fit comfortably, or will it make the room cramped?
A quick measurement can save you from headaches, ensuring that your chosen model compliments your workspace rather than complicating it.
Isn't it easier when everything fits just right?
Consider Noise Levels
A crucial yet often overlooked factor is the noise a standing desk treadmill generates.
Especially if you're sharing a workspace or taking regular calls, you'll want a model that hums gently rather than roars.
Remember, the goal is to enhance your productivity, not disturb your peace. Can you hear the sweet sound of success?
Additional Features
Finally, don't forget to explore the extra features each model offers.
From pre-set workout programs to in-built speakers, these perks can make your workday even more enjoyable.
And who said fun and work couldn't go hand in hand?
Choosing the right standing desk treadmill can seem daunting, but by keeping these tips in mind, you'll be well on your way to finding the perfect match.
6 Top Standing Desk Treadmills That'll Keep You Fit (& Productive)
Now that you're primed with knowledge about what to consider when shopping for a standing desk treadmill, let's explore the top models…
1. WalkingPad P1
Picture this: you're traveling for business, but you don't want to abandon your fitness routine. WalkingPad P1 to the rescue!
This foldable, portable standing desk treadmill is your knight in shining armor.
Weighing in at a feather-light 62lbs, you can easily stow it in your car or tuck it away when not in use.
The WalkingPad P1 can be your best companion in maintaining your fitness goals while on the move. With a speed range of 0.5-3.7mph, it's perfect for casual strolls or an invigorating power walk.
Plus, its intelligent adaptive speed control adjusts to your pace — talk about smart and savvy!
2. UnSit Treadmill
The UnSit Treadmill is a productivity wizard's dream. With its rectangular design, it offers a 30% larger walking area than conventional models, giving you ample space to stride confidently.
It also comes with an app that syncs with your fitness trackers and Apple Health, making it easier than ever to monitor your progress.
Working in a co-working space? No problem!
The UnSit's whisper-quiet operation ensures you can hustle without the bustle.
3. WalkingPad C2
So, you loved the P1 but crave something even sturdier? Enter the WalkingPad C2, a perfect blend of durability and versatility.
The C2 boasts an enhanced frame, capable of supporting up to 220lbs. It's your ideal companion for longer workdays.
You'll also love the remote control feature — it's like wielding the power of productivity in your palm!
Planning to walk and host a virtual meeting? Its ultra-quiet motor ensures your clients will hear your voice, not your steps.
4. LifeSpan TR1000-DT3 GlowUp
Seeking the crème de la crème of desk treadmills? The LifeSpan TR1000-DT3 GlowUp is luxury at your feet.
Its 'Intelli-Step' feature counts your steps like a pro.
But it doesn't stop there — it also has a built-in safety feature that pauses the belt if you step off.
Hosting a conference call?
The whisper-quiet motor ensures your words flow like silk without background noise.
And let's not forget about its stunning aesthetics — it's like having a runway right under your desk!
5. iMovR Lander Treadmill Desk
iMovR Lander takes customization to a whole new level. With a speed range of 0.3-2.5 mph and ultra-precise height adjustments, it's like having a tailor-made suit for your workspace.
This standing desk treadmill also boasts an impressive LCD touchscreen console.
You can easily track your fitness metrics, and the built-in coach program might just replace your gym subscription.
The Lander also offers Bluetooth connectivity, so sync it with your favorite devices and strut your stuff down the productivity catwalk.
6. Egofit Walker Pro
Sometimes the best things come in small packages. The Egofit Walker Pro is the David amongst Goliaths, the smallest under-desk treadmill in the market.
Perfect for cubicles and smaller home offices, it's the ultimate space-saver.
But small doesn't mean compromising on features.
With a maximum speed of 2 mph and an ultra-quiet motor, it's like having a pocket rocket of fitness.
Its mobile app compatibility also means you can stay connected and monitor your progress on the go.
Wich Standing Desk Treadmill Will You Choose?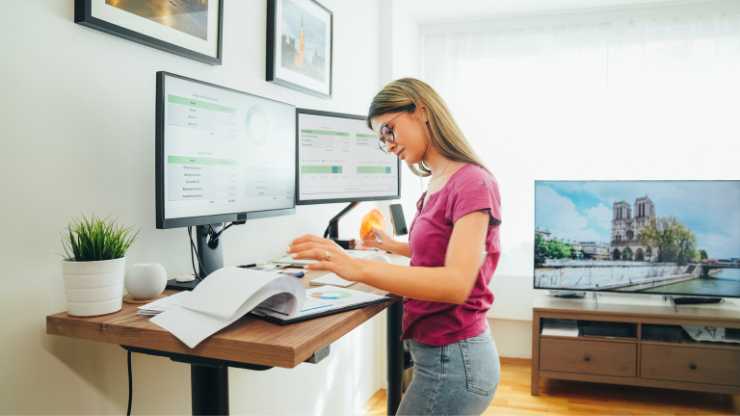 You're sitting (or standing) at your desk, questioning if the investment in a standing desk treadmill will pay off.
We get it; it's a big step.
Yet, it can enhance your home office experience.
So, stand up, step forward, and embrace a more active, invigorating workday!
You've got this.