Searching for the best standing desks to revolutionize your home office?
You've come to the right place!
We understand how essential it is to maintain a healthy posture and boost productivity while working from home.
So, we've handpicked the top-standing desks that'll make a real difference in your daily routine.
Let's dive right in!
Standing Desk Benefits: Enhance Your Well-Being
Standing desks have gained popularity in recent years, and for good reason. They offer numerous benefits that can have a lasting impact on your health and overall well-being.
Let's explore some of these life-changing advantages:
Improved posture: Standing desks encourage better posture by promoting a neutral spine position, reducing the risk of developing poor posture habits associated with prolonged sitting.
Reduced back pain: Numerous studies have found that using a standing desk can alleviate back pain by allowing you to stand and stretch throughout the day, reducing pressure on your spine.
Increased energy levels: Standing while working helps to increase blood circulation and oxygen flow, leading to higher energy levels and better focus.
Boosted productivity: The improved energy levels and focus from standing can translate into enhanced productivity, helping you get more done in less time.
Calorie burn: Standing burns more calories than sitting, which can contribute to weight management and overall health.
Lowered risk of chronic diseases: Prolonged sitting has been linked to an increased risk of chronic conditions such as obesity, heart disease, and diabetes. Standing desks can help reduce sedentary time and promote a more active lifestyle.
Enhanced mood and reduced stress: Standing while working has been associated with improved mood and lower stress levels, contributing to a more positive work environment.
Greater flexibility: Many standing desks are height-adjustable, allowing you to switch between sitting and standing throughout the day, giving you the freedom to customize your workspace for optimal comfort.
Investing in a standing desk is a step towards a healthier, more productive, and happier work life.
With all these benefits at your fingertips (and a few accessories), it's time to make the switch and experience the transformative power of a standing desk!
10 Game-Changing Standing Desks That'll Revolutionize Your Workspace
Ready to take your home office to new heights? We've got you covered! In this section, we're introducing the most innovative and unique standing desks on the market.
So, without further ado, let's explore these game-changing standing desks that are ready to transform your workspace…
1. Uplift V2: Space-Saving Masterpiece
The Uplift V2 standing desk takes compact and efficient to a whole new level. With its advanced three-stage telescoping leg system, you can seamlessly adjust your desk height within minutes, accommodating users of various heights.
Worried about space?
The V2's slim profile ensures it'll fit into the tightest of home offices without sacrificing stability or style. It also features a wire management system to keep your workspace neat and organized.
2. Fully Jarvis: The Transformer
The Fully Jarvis is more than just a standing desk — it's a versatile workstation that adapts to your needs.
The accessory rail lets you quickly add or remove components like monitor arms, keyboard trays, or shelves, allowing you to switch from a single monitor setup to a full-blown battle station in a snap.
With its sturdy frame and customizable options, the Jarvis provides a tailored workspace for every user.
3. Vari Electric: The Silent Warrior
Noise can be a productivity killer, and the Vari Electric Standing Desk combats that problem with its whisper-quiet motor.
With its smooth, silent height adjustments, you won't disturb anyone around you while shifting between sitting and standing. The desk also boasts a spacious desktop and a sturdy steel frame, making it a reliable and robust choice for your home office.
4. FlexiSpot Sit Stand Desk: The Healthy Habit Builder
The FlexiSpot M3B Sit Stand Desk Converter effortlessly transforms your existing workspace into an ergonomic haven, encouraging better posture and healthier habits.
The built-in timer reminds you to alternate between sitting and standing throughout the day, ensuring you maintain a balanced work routine.
The gas spring system allows for easy height adjustments, and the wide keyboard tray accommodates both your keyboard and mouse comfortably.
5. Jarvis Bamboo: Eco-Friendly Innovation
A desk that's kind to your body and the planet? Look no further than the Jarvis Bamboo Standing Desk.
Its sustainable, eco-friendly bamboo top adds a touch of nature to your workspace while supporting a minimalistic home office design. The robust frame and advanced lifting system ensure smooth height adjustments, allowing you to focus on your work without any distractions.
6. Eureka Ergonomic: The Customizable Champion
Tailor your workspace to your preferences with the Eureka Ergonomic desks. The easy-to-use control panels lets you save multiple height presets, ensuring the perfect fit for each member of your household.
The desks also feature a cable management system, keeping your cords tidy and out of the way for a clutter-free workspace.
7. ApexDesk Elite: The Monitor Maven
For those with multiple monitors, the ApexDesk Elite standing desks are a godsend. Its ample desktop space and sturdy frame can easily handle your multi-monitor setup, making your workspace both practical and visually impressive.
The desks also feature a dual-motor lifting system, ensuring smooth and rapid height adjustments, so you can transition between sitting and standing with ease.
8. Magnus Pro: The Storage Sleuth
Bid farewell to clutter with the Magnus Pro standing desk. Its built-in storage solutions help keep your workspace organized and efficient, ensuring a more focused and productive work environment.
The desk also features multiple drawers, shelves, and cable management options to keep everything in its place, giving you more time to concentrate on your tasks.
9. SmartDesk Core: The Tech-Savvy Standout
Upgrade your home office with the SmartDesk Core, featuring integrated USB ports and power outlets. You'll never have to fumble with cords or search for an open outlet again.
The desk also has a sleek, modern design and a customizable frame, allowing you to create the perfect workspace that suits your style and needs.
10. Ergotron WorkFit-TL: The Mobile Marvel
The Ergotron WorkFit-TL sit stand desk takes flexibility to new heights with its easy-to-move design. The desk's compact size and smooth-rolling casters allow you to effortlessly transition between workspaces, ensuring an ergonomic setup wherever you go.
The WorkFit-TL also features a spacious work surface and an intuitive, hand-brake-operated height adjustment system, making it a perfect choice for those who value adaptability and convenience.
11. LifeSpan Treadmill Desk: The Active Achiever
The LifeSpan TR1200-DT5 Treadmill Desk combines the benefits of a standing desk with the advantages of low-impact exercise.
This innovative desk solution keeps you moving throughout your workday, helping you burn calories, increase focus, and boost your overall health.
The integrated treadmill boasts a whisper-quiet motor and an adjustable speed range, while the sturdy desk surface provides ample workspace for your laptop, keyboard, and other essentials.
So, why not embrace an active work lifestyle with this treadmill desk?
Time to Choose the Best Standing Desk For You!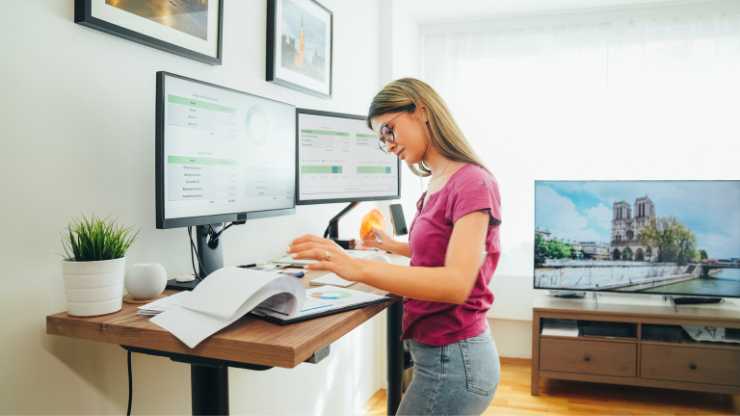 We know you've been daydreaming about the perfect standing desk — a desk that not only promotes health but also reflects your unique personality and needs.
Our list of the 10 best standing desks has you covered!
These desks are more than just functional; they're inspiring, innovative, and designed to make your work-from-home experience extraordinary.
So, go ahead and choose the one that speaks to you, and get ready to level up your home office!