Are you on the lookout for the perfect modern home office desk to revamp your workspace?
Well, you've come to the right place!
From sleek minimalist designs to practical, space-saving solutions, we've got you covered.
We'll be sharing specific examples, actionable tips, and clever strategies to help you make an informed decision.
So, what are you waiting for?
Let's dive right in!
1. The Convertible Standing Desk
It's time to ditch that traditional desk and make room for a modern standing desk.
These desks are not only adjustable, but they offer a great way to improve your posture and productivity in just an hour or less.
Plus, standing while working can actually help you feel more energized and focused!
So, consider investing in a desk with an electric lift system for seamless height adjustments throughout the day.
2. The Minimalist Floating Desk
If you're short on space or simply love the clean lines of a minimalist design, a floating desk is the perfect solution.
It gives you the surface space you need without taking up valuable floor space.
Just mount it to the wall, and you've got a sleek and functional workspace!
So, if you're in the market for a floating desk, consider a modern desk with built-in shelves for added storage and organization.
3. The Multipurpose Desk with Built-in Storage
We all know how important storage is for a home office, so why not incorporate it right into your desk?
A modern desk with built-in storage not only helps you stay organized but also adds a stylish touch to your space — win, win!
Consider desks with drawers, shelves, or even hidden compartments to store all your office essentials.
4. The Executive L-Shaped Desk
Upgrade your home office with an executive L-shaped desk that provides ample surface space and a touch of sophistication.
This desk shape is perfect for those who need to spread out their work, and the modern designs often include additional features like a keyboard tray or charging stations for your devices.
And take advantage of the L-shape to create a dual workspace for multitasking or collaborating with a partner.
5. The Space-Saving Corner Desk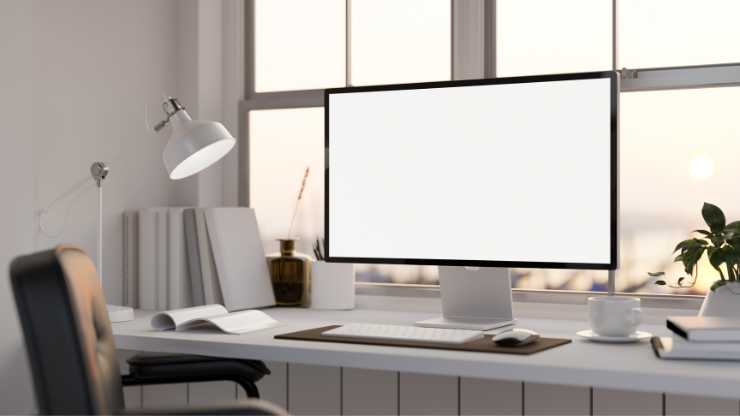 Got an awkward corner in your office? A modern corner desk can transform that wasted space into a functional and stylish work area.
It's a great option for those with smaller offices or anyone looking to maximize their workspace.
Why not pair your corner desk with a comfortable, ergonomic office chair to enhance productivity and comfort?
6. The Sleek Glass Desk
Nothing says "modern" quite like a glass desk.
Not only does it look sleek and stylish, but it also creates the illusion of more space in your home office. And pair it with a contemporary office chair for a stunning and functional workspace.
The only downside is keeping it clean…
So, keep your glass desk looking pristine with regular cleaning –- a microfiber cloth and glass cleaner will do the trick.
7. The Mid-Century Modern Writing Desk
Add a touch of vintage flair to your modern home office with a mid-century modern writing desk.
These desks often feature solid wood construction, tapered legs, and clean lines, making them a perfect blend of form and function.
If you want to take it a step further, enhance the look with coordinating mid-century modern office accessories and wall decor.
8. The Compact Secretary Desk
Don't let limited space hold you back from having a stylish and functional office.
A compact secretary desk provides a workspace and storage in one, making it perfect for small spaces or multi-purpose rooms.
Also, customize your secretary desk with personalized office supplies for a workspace that truly reflects your style.
9. The Contemporary Reception Desk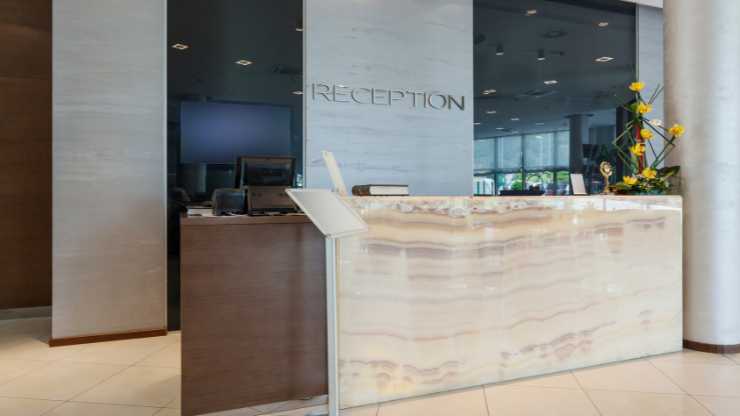 If you're running a business from home, why not make a statement with a contemporary reception desk?
These desks are designed to impress clients and provide a functional workspace for you and your team.
Add a touch of professionalism with your company logo or business name displayed on the front of the desk. Don't forget to stock up on essential receptionist supplies like a phone, notepads, and pens for a seamless client experience.
10. The Transformative Coffee Table Desk
Combine your living space and office with a modern coffee table desk. These versatile pieces can function as a stylish coffee table while also providing a hidden workspace when needed.
Simply lift the tabletop, and you'll reveal a spacious desk with storage compartments for your office supplies. It's perfect for those who need a flexible work area or have limited space for a separate office.
11. The Chic Industrial Desk
Next up, bring a touch of urban style to your home office with an industrial desk.
Featuring a combination of metal and wood, these desks offer a unique and bold look while still being highly functional. Look for designs with ample storage, like shelves and drawers, to keep your workspace clutter-free.
And incorporate industrial accents like metal wall lights and storage units to complete the look.
12. The Customizable Wall Unit Desk
Last but not least, consider a customizable wall unit desk that can be tailored to your specific needs and style preferences.
With various components like shelving, drawers, and surface space, you can create the perfect home office setup.
So, consult with a design service or a professional organizer to help you plan the ideal configuration for your wall unit desk. A simple Google search should present you with many designers to choose from.
Embrace the Modern Home Office Desk Upgrade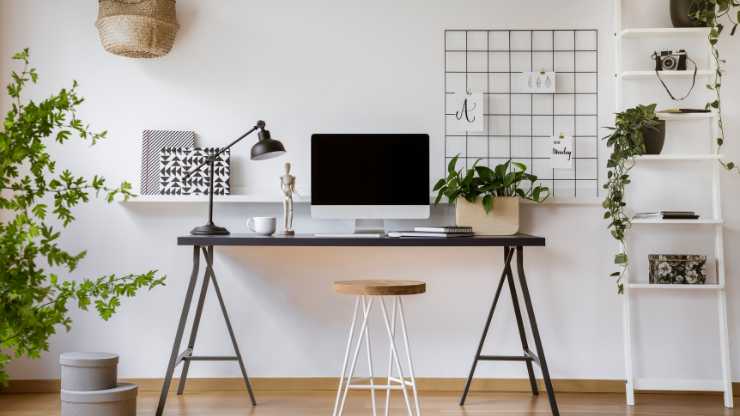 You've come a long way in your quest for the perfect modern home office desk.
With these 12 stylish and functional options to choose from, you'll be ready to tackle your work with renewed energy and enthusiasm.
No more feeling embarrassed or frustrated with your workspace –- it's time to embrace the upgrade!
So, go ahead and show off your new home office –- you've earned it!
Remember, the key is to find a desk that suits your needs, space, and style preferences.
With a little effort and creativity, you'll create a workspace that you're proud to call your own.