Looking to spruce up your workspace with the best desk accessories? You're in the right place.
We know it's not just about aesthetics, but also about boosting productivity and comfort.
With the right gadgets and gizmos, you'll be unstoppable.
From quirky paper clip holders to ergonomic standing desks, we've curated a list of accessories that will elevate your work-from-home experience.
Ready for the office makeover of your dreams?
Let's dive right in.
1. Desk Hammock
A nifty little hammock that clips onto your desk, providing a comfortable spot for your feet. It not only improves your posture but also encourages better blood circulation during those long hours of sitting.
So, add a playful touch to your workspace while also prioritizing your health with this fun accessory.
2. Mouse Pad with Wireless Charging
Why settle for a regular mouse pad when you can have one that also charges your phone?
This genius desk accessory combines practicality with convenience, ensuring your devices stay powered during those intensive work sessions.
No more pausing your workflow to find a charger; power is literally at your fingertips!
If you're keen to explore this nifty accessory, check out this guide from NerdTechy.
3. Green Screen Mouse Pad
Ideal for gaming enthusiasts and remote workers alike, this mouse pad doubles as a green screen, making your streaming or video conference sessions a breeze.
Who said office accessories couldn't be both professional and fun?
4. USB-C Desk Lamp
This sleek desk lamp doesn't just brighten your workspace; it also features a built-in USB-C port for charging your devices.
No more fumbling for power outlets; this accessory creates a well-lit, efficient workspace with minimal clutter.
It's the accessory you never knew you needed.
5. Desk Microphone
Upgrade your audio with a compact desk microphone. Perfect for conference calls or recording voice-overs, it ensures your voice is clear and professional.
With its sleek design, it adds a touch of sophistication to your workspace while enhancing your communication capabilities.
6. Overhead Headphones
These overhead headphones provide superior sound quality for all your audio needs, be it video calls or listening to music. With their comfortable design, you can wear them for extended periods without discomfort.
When not in use, they can be hung neatly on your headphone stand, adding to the organized look of your desk.
7. Vertical Mouse
This vertical mouse promotes a more natural hand position, reducing the strain on your wrist during long hours of work. If you spend a significant amount of time on your computer, this mouse is a game-changer.
It combines ergonomic design with precision control, making your work experience more comfortable and efficient.
8. Cable Management Box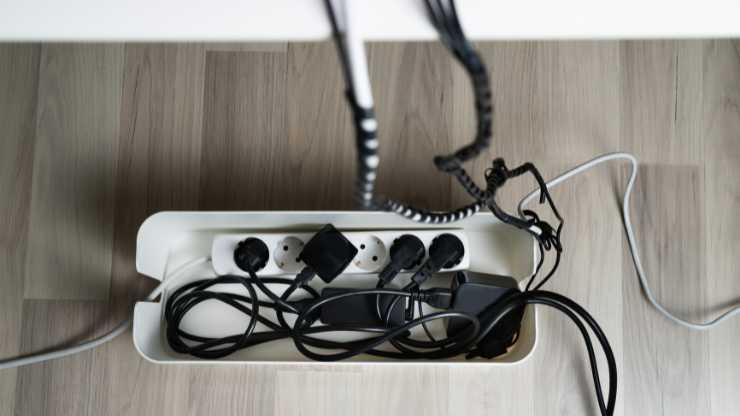 The cable management box neatly contains and hides your power strips and excess cables, eliminating the visual clutter on and around your desk.
With its sleek design, it blends effortlessly into your workspace while keeping it organized and free from tangled wires.
9. Space-Saving Monitor Stand
Choosing a monitor stand that is ergonomic and space-optimizing is a must.
With built-in drawers, it provides extra storage while elevating your monitor to a comfortable viewing height, promoting better posture and reducing eye strain.
10. Plant Pen Holder
This unique desk organizer brings a touch of nature into your workspace.
Doubling as a miniature plant pot, it not only organizes your pens but also boosts your mood with a hint of greenery, adding life to your work-from-home setup.
Why not take a peek at Etsy for a unique touch?
11. Mechanical Keyboard
There's something satisfying about the "click-clack" of a mechanical keyboard. An element of calm.
So, if you're like me, it's a must-have in your office arsenal. You could even combine your keyboard and pencil holder into one space-saving desk accessory.
Unsure which one to invest in? Check out this mechanical keyboard guide.
12. Filing Cabinet Desk
Maximize your workspace with a dual-purpose desk and filing cabinet. It provides ample storage for your office supplies, keeping your desk clutter-free and your workflow smooth.
It's the perfect solution for small spaces or those who prefer a minimalist home office setup.
13. Headphone Stand
If you're frequently misplacing your headphones, this accessory is for you. It provides a designated spot for your headphones and other small items.
So, keep your workspace tidy and your essentials within reach.
14. Standing Desk
With more people working from home, the importance of a comfortable and ergonomic workspace has never been clearer. The standing desk is a breakthrough in this respect.
By promoting a more active workstyle, it helps combat the health risks associated with prolonged sitting, such as heart disease, obesity, and musculoskeletal discomfort.
15. Wireless Earbuds with Charging Case
Wireless earbuds provide clear sound and easy connectivity for all your conference calls or music sessions.
And a charging case doubles as a compact and stylish desk accessory, ensuring your earbuds are always powered and ready.
16. Adjustable Phone Stand
This adjustable phone stand allows you to position your phone at various angles for optimal viewing.
Whether you're on a video call or just glancing at notifications, this stand allows you to interact with your phone hands-free, reducing neck strain and keeping your desk space tidy.
17. Thermal Coffee Mug
A thermal mug isn't just for traveling, it's the perfect companion for your home office.
So, keep your beverage at the perfect temperature and enhance your work-from-home experience with one of these additions.
It's a must-have desk accessory for any caffeine enthusiast.
18. Magnetic Cable Organizer
A magnetic cable organizer keeps your various cables neatly arranged, eliminating clutter and the frustration of tangled wires.
With its sleek design, it's a desk accessory that's both aesthetically pleasing and incredibly functional.
Breath Life into Your Office with the Best Desk Accessories
The right desk accessories can transform your space, making it a place you look forward to working in each day.
Whether it's a mouse pad with a built-in wireless charger or a desk lamp with USB-C ports, there's no limit to the creative and practical gadgets out there.
Remember, your desk is your command center — make it a place that works for you.
After all, who wouldn't want a workspace that inspires and facilitates productivity?
Now, go forth and conquer your work-from-home game!