In a world that never stops buzzing, finding tranquility can be tough, can't it?
Imagine how a clean, clutter-free workspace could change that.
That's where minimalist desks come into play.
These simple yet stylish furnishings not only add a modern touch to your environment but also boost your productivity.
They promote an 'less is more' lifestyle, free from unnecessary distractions.
Are you ready to simplify your work life?
Let's dive right in.
Why Embrace the Minimalist Design?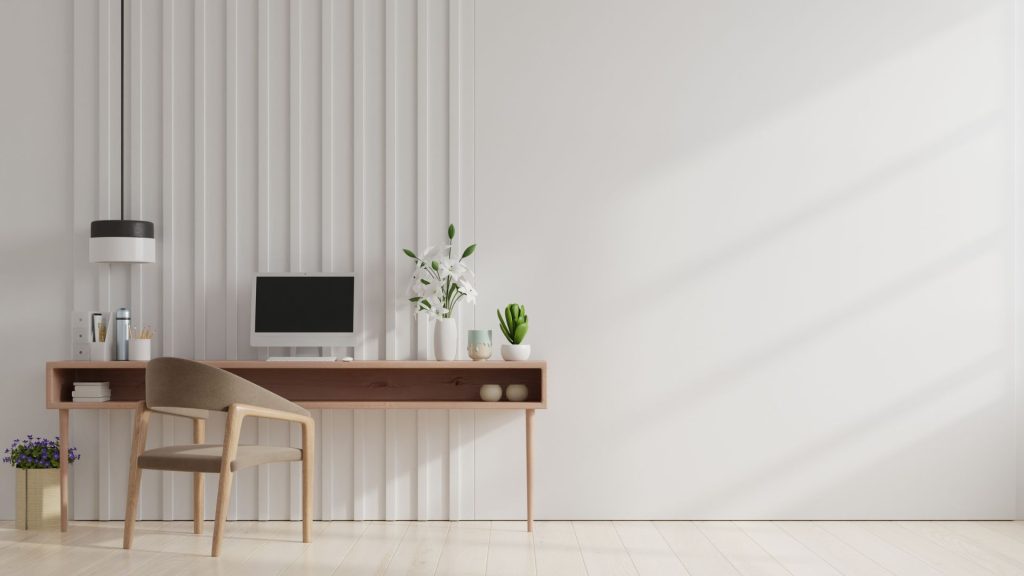 Embracing minimalism isn't simply a trend that's currently catching the eye of designers and homeowners alike — it's a lifestyle change, an entire philosophy of life.
It's about creating spaces that spark joy, reduce stress, and boost productivity.
It's about bidding adieu to the clutter and chaos that can often burden our mind and space, and embracing focus and tranquility instead.
Consider the value of clear space.
A minimalist desk, by its design, discourages accumulation of unnecessary items.
You're more likely to keep things in order, knowing that every object on your desk has its purpose and place.
And let's not forget about the time saved not having to search through a mess for that one important document or elusive pen.
Minimalist home office design also capitalizes on the principle of harmony. It's a delicate dance between aesthetics and functionality.
By stripping down the elements to the bare essentials, every component of your workspace becomes intentional and purposeful.
The desk, the chair, the lamp — each piece sings in a silent chorus of elegant simplicity.
This harmony isn't merely visually appealing — it has the potential to significantly reduce cognitive overload, allowing your mind to focus on tasks that truly matter.
6 Top Minimalist Desks That'll Streamline Any Remote Workspace
Now that we've established why minimalist design is a game-changer, let's delve into the finest minimalist desks that can transform your workspace…
1. Artifox Desk
A rebel in the furniture world, the Artifox Desk dares to blur the line between simplicity and innovation.
A glorious blend of walnut and steel, it breathes an air of sophistication into any setting, be it a dedicated home office or a multi-purpose room.
Beyond the exquisite design, this desk masterfully integrates a cable grid system.
This ingenious feature allows you to manage your cables with finesse, eliminating the all-too-common sight of tangled cords and frayed nerves.
Imagine the relief of not having a jumble of wires distracting your focus — it's a reality with the Artifox Desk.
The desk's minimalist design even encourages a more organized digital life.
Your laptop, phone charger, and desk lamp cords can all find a home within this desk, leaving your workspace clutter-free and your mind clear.
2. Ikea LISABO Desk
Challenging the misconception that minimalism is an expensive choice, the Ikea LISABO Desk serves as the ambassador of affordable elegance.
Its unassuming design features an ash veneer finish that complements any décor, and tapered legs that give it a timeless appeal.
This desk shines in its simplicity, encouraging you to focus on the task at hand rather than your surroundings.
Moreover, this Ikea piece champions the philosophy of "easy-to-build". If you're intimidated by complicated furniture assembly, fear not.
With the LISABO Desk, you can have your workspace up and running in less time than it takes to clear your inbox.
Besides, this desk's price point frees up budget for other essential items like an ergonomic chair or a high-quality desk lamp, rounding out your workspace in a cost-effective way.
3. Burrow Pilot Desk
Small space doesn't have to mean a cramped workspace, and the Burrow Pilot Desk is proof.
This desk's lean, clean lines underscore the principle that great design can fit into small spaces.
Outfitted with a sturdy steel frame, it's resilient despite its light appearance. And it doesn't just save space — it optimizes it.
An integrated storage system is built into the desk's design, perfect for storing office essentials without adding bulk.
Imagine stashing your accessories and even your laptop in the recesses of this desk at the end of a workday, transforming your workspace back into a living area with ease.
With the Burrow Pilot Desk, you can effectively delineate work and leisure time, even in a compact space.
4. Hay Pyramid Table
Infusing simplicity with a unique twist, the Hay Pyramid Table is for those who are not afraid to think outside the box.
Its robust steel frame underpins a solid wooden tabletop, creating a stark contrast that's both striking and elegant.
However, its minimalist design doesn't compromise on functionality.
With ample workspace and durable materials, it is built to last, making it a smart long-term investment.
Moreover, its unusual geometric lines can act as a conversation starter, adding an element of intrigue to your space.
Ready to couple style with minimalism, all while making a statement that reflects your individuality?
5. Blu Dot Stash Desk
Incorporating a sprinkle of fun into the simplicity of minimalism, the Blu Dot Stash Desk is perfect for those who crave a bit of color.
Constructed from solid wood, this sturdy desk is reliable and easy to maintain.
Its unassuming exterior opens to reveal a pencil drawer with a vibrant interior, proving that minimalism doesn't necessarily mean sacrificing personality.
This design feature can serve as an inspirational boost, subtly motivating you as you work.
Furthermore, the drawer provides practical storage, keeping your workspace uncluttered.
So why not blend practicality with a bit of playfulness? After all, who said minimalism had to be dull?
6. CB2 Drommen Desk
Exemplifying elegance in simplicity, the CB2 Drommen Desk combines the allure of a sleek acacia wood top with the charm of pencil legs, reminiscent of mid-century design.
It's not just a workspace — it's a multi-functional piece that elegantly adapts to your needs.
Additionally, the acacia wood top is known for its durability and resistance to water damage, making it a practical choice.
Ready to let your workspace double as a charming centerpiece, all while embodying a minimalist aesthetic? Why not!
Embrace The Power of Minimalist Desks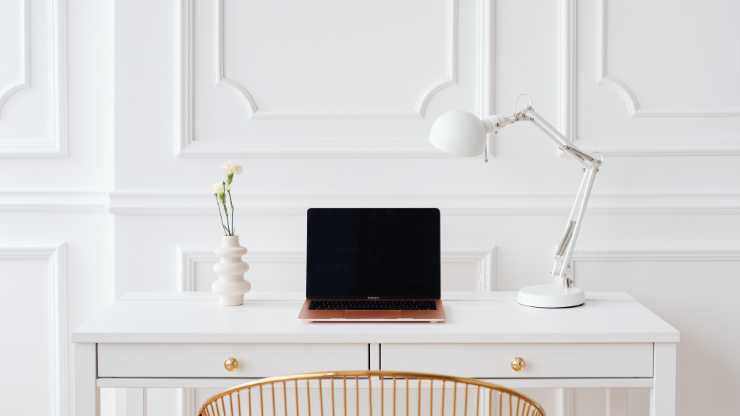 Feeling overwhelmed by clutter and distractions at your workspace? We've all been there.
A chaotic desk can steal your peace and efficiency, but don't let it get you down.
You've taken the first step towards an organized, serene workspace by considering minimalist desks.
Remember, simplicity is the ultimate sophistication.
With a minimalist desk setup, you're not only investing in a stylish piece of furniture but also an approach that leads to better focus and productivity.
So, here's to a clutter-free future and achieving new heights of success!