Are you on a quest for the best table lamps to transform your space? You're not alone.
When it comes to home decor, the right lighting can be a game-changer. It sets the tone for a cozy evening or an energized workday. But with so many options out there, how do you choose?
In this blog post, we'll spotlight more than 10 fabulous table lamps. These can ignite your home decor and even enhance your office setup.
So, ready to light up your world? Let's dive right in.
1. Artistic Ceramic Table Lamps
Artistic ceramic table lamps turn the spotlight on creativity. These lamps blend practicality with art. They create a unique centerpiece for any room.
Take, for example, the stunningly beautiful ceramic table lamps from Pottery Barn. Hand-painted with intricate designs, these lamps is a work of art on its own. But when paired with an LED bulb, you can tweak the brightness level.
The aim? To create a warm, inviting atmosphere in your living room, home office, or bedroom. Plus, the ceramic material adds a sophisticated touch. This enhances any decor style.
So, if you're looking to add a pinch of artistic flair to your home or office, a ceramic table lamp might be the perfect fit!
2. Smart Lamps for the Tech-Savvy
Enter the future of lighting with smart lamps. Imagine being able to control your lamp's brightness, color temperature, and even schedule when it turns on or off, all from your smartphone.
Sounds impressive, right?
Smart lamps like the Philips Hue do just that and more. You can even connect them to your Google Home, enabling voice control. This means you can adjust the lamp's settings without having to leave your cozy bed or interrupt your work.
Plus, their adjustable color temperature allows you to switch between cool, natural light for productive work hours and warm light for relaxed, cozy evenings.
Now that's smart lighting!
3. Adaptable Task Lamps
Task lamps are all about flexibility and practicality. Their adjustable lamp heads let you direct the light exactly where you need it. It might be your late-night work desk or your favorite reading chair.
Consider the adjustable BenQ Task Light, for instance. It comes with multiple brightness levels. This allows you to adjust the light intensity based on your task.
So, if you're poring over a detailed blueprint, you can turn up the brightness for better visibility. But if you're unwinding with a good book, you can dim the light. You'll get a softer, cozier glow.
Task lamps are all about adjusting to your needs. This makes them an ideal addition to any space.
4. Stylish Floor Lamps
Who said lamps need to be confined to tables? Floor lamps are a stylish and practical alternative. They can add a layer of ambient light to a room. They illuminate dark corners and highlight your favorite decor pieces.
Consider the sleek, contemporary floor lamp from H&M Home, for example. Its minimalist design can seamlessly blend into any decor style. Its generous light can fill a room, creating a warm, inviting ambiance.
Plus, a floor lamp frees up table space. That gives you more room for your books, coffee mug, or even your home office essentials.
5. Chic Bedside Table Lamps
When it comes to bedside table lamps, it's all about combining style and function. After all, this is a lamp that will likely be the first thing you see in the morning and the last thing you see at night.
The Yarra Decor bedside lamp, for example, boasts a chic, minimalist design with a fabric shade. This allows it to emit a soft, calming glow. This is perfect for winding down after a long day.
Plus, it's more than just a pretty face. The lamp's size and brightness make it ideal for nighttime reading. You can dive into your favorite book without disturbing your partner, thanks to the focused light.
And let's not forget. A stylish bedside lamp can elevate the entire look of your bedroom. It adds a touch of elegance to your sanctuary.
6. LED Lamps for Energy Efficiency
Here's a bright idea — LED lamps. Not only do these lamps offer superior energy efficiency, but they also provide great light output for your home or office space.
For example, a lamp with an LED bulb typically uses about 80%-90% less energy than traditional incandescent lights. And they last for up to 11 years with continued use!
The practical benefit is clear: fewer bulb replacements and energy savings.
As a bonus, LED lamps come in a wide array of color options. So, you're not just setting the mood — you're customizing it. You could choose a soft, warm light for those cozy nights in, or a bright, cool light to invigorate your workspace during the day.
How about a blue-toned light for a calming effect? Or a red hue for some dramatic flair? The possibilities are endless.
7. Picture Lights for Art Lovers
Picture this: a spotlight that illuminates your favorite artwork or treasured family photo in the perfect light. That's precisely what a picture light does.
Typically mounted on the wall or a nearby end table, these lamps are designed to bring out the colors and details of your artwork. Adjustable brightness allows you to control the intensity of the light. This enhances the viewing experience.
But the appeal of picture lights extends beyond their practical application. They also serve as a unique home decor piece. They draw attention to your impeccable taste in art.
So, while you're showcasing that beautiful watercolor painting or vintage black-and-white photograph, you're also showcasing your style.
8. Studio McGee Inspired Lamps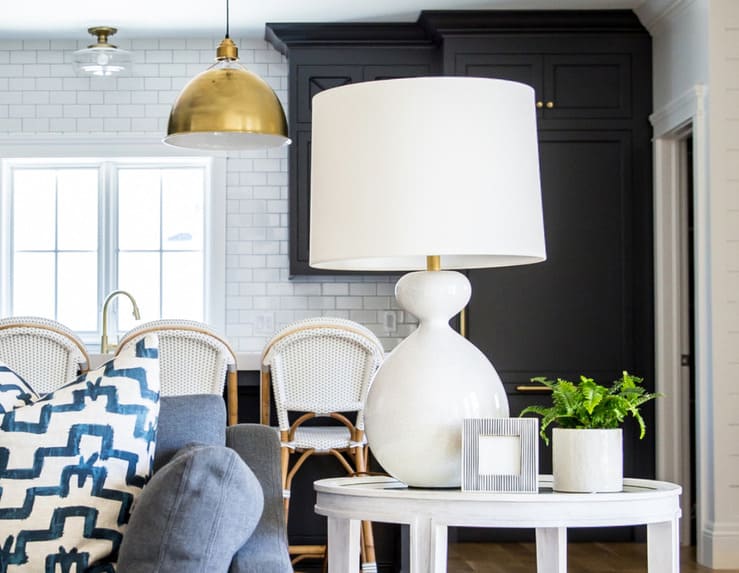 If you've ever scrolled through the Studio McGee website or Instagram feed, you're familiar with their iconic style. It's a balance of elegance and simplicity, and a dash of unexpected charm.
Now, imagine bringing that vibe into your own home with a Studio McGee inspired table lamp.
These lamps are more than just practical lighting solutions. They're statement pieces. Whether you place one on your desk, end table, or nightstand, a Studio McGee lamp elevates the style quotient of your space.
And don't forget the adjustable brightness levels. They're a boon whether you're in the middle of a late-night work marathon or curling up with a good book.
9. Nightstand Lamps for Minimalists
In the world of decor, less can indeed be more. If you're leaning towards a minimalist home office, a sleek nightstand lamp is a must-have for your space.
One prime example is the Edison Table Lamps from Cordero Lighting. It has a streamlined design that takes up minimal space on your bedside table. This ensures your nightstand stays clutter-free.
But don't let its size fool you. The warm light this lamp provides is plentiful. It creates a soft, soothing atmosphere for your nighttime routine.
Whether you're reading, journaling, or simply winding down for the day, this lamp has got your lighting needs covered.
10. Eco-friendly Solar Lamps
If sustainability is your thing, an eco-friendly solar desk lamp is your perfect match. These lamps are powered by renewable energy, specifically sunlight, cutting down on electricity costs and reducing your carbon footprint.
With an integrated solar panel, these lamps charge during the day and offers bright, warm light in the evenings. This makes it perfect for work or study.
But it's not just about being eco-friendly. These lamps also come with adjustable brightness levels, ensuring you have the right amount of light, regardless of the task at hand.
So, if you're seeking an innovative, sustainable, and practical solution to your lighting needs, a solar desk lamp might just be the answer.
Ignite Your Space with the Best Table Lamps
You've been thinking about it, haven't you?
Wondering how a simple lamp can transform your space from blah to breathtaking? You're not alone – and you're not misguided either.
Trust us, the right table lamp can work wonders!
You've already taken the first step by reading this article and learning about these amazing lamps.
Keep going, bring your vision to life.
Remember, the perfect lamp is just a switch away from turning your space into a well-lit haven.
Now, stand tall, turn on that lamp, and watch your world light up in style!